iPhone 14 Series Koa Case
$

70.00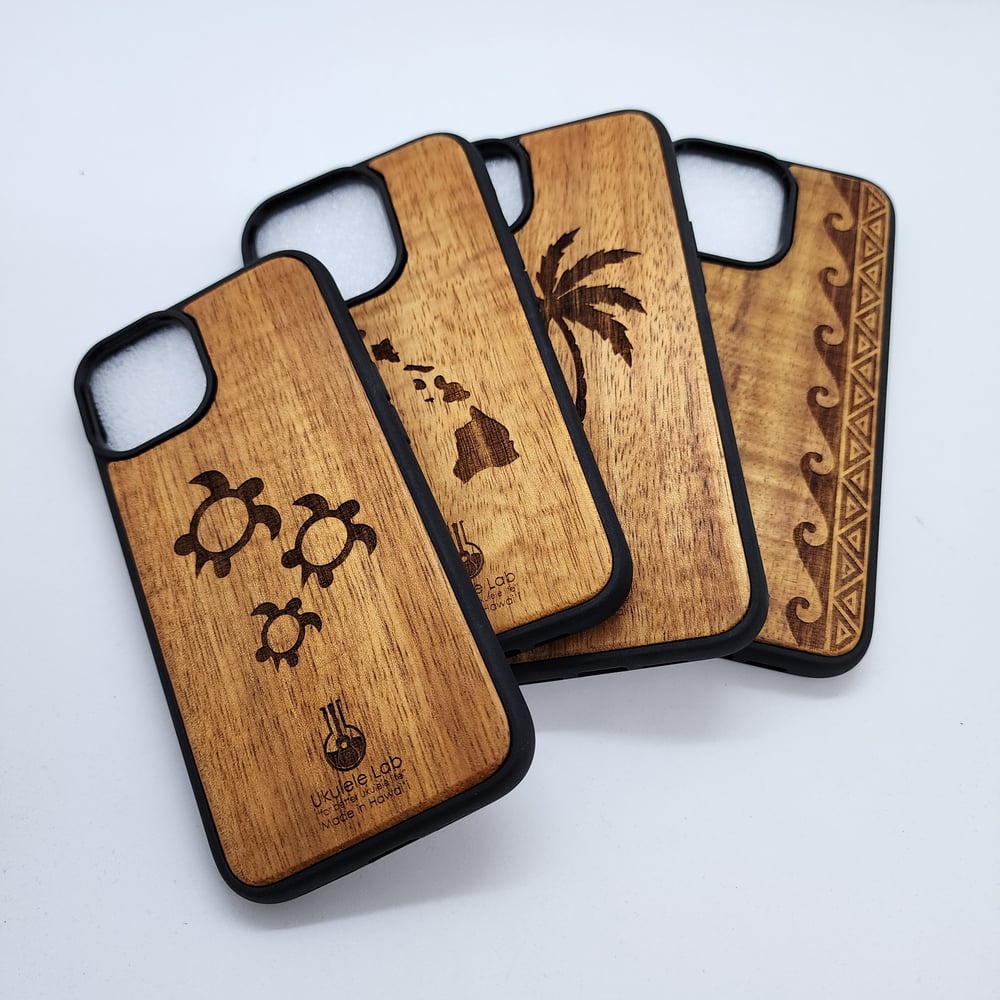 These are Ukulele Lab original koa iPhone cases!
All cases are hand made in house!
Please let us know what design you would like when you order your case.
-Plain
-Hawaiian Islands
-Palm Tree
-Honu
-Pineapple
-Tattoo
These Cases are Satin Oil Finished.
Inlaid cases will be Satin Lacquer finished.
We also have some of our designs and previous work on Instagram.
https://www.instagram.com/ukulelelab/
For Custom Engraved Design (ie. Name engrave, etc) please contact us. We will work with you on your design and give you a quote.
Please contact us for all other custom work or custom cases.
Price starts from;
$20~ for custom laser engraving.
$40~ for inlay work.
$40 Additional for High Gloss Finish.
Other cases for other phones may also be available (ie. Samsung Galaxy series), please contact us.
*Item may take 1~3+ weeks depending on back order, work intensity and/or inventory status. Please email for details.
*Pictures are samples of previous builds and may differ in grain and color to what you may receive.
Availability
iPhone 14 Plain

iPhone 14 Palm Tree

iPhone 14 Hawaiian Isles

iPhone 14 Tattoo

iPhone 13 Honu

iPhone 14 Pineapple

iPhone 14 Pro Plain

iPhone 14 Pro Palm Tree

iPhone 14 Pro Hawaiian Isles

iPhone 14 Pro Honu

iPhone 14 Pro Tattoo

iPhone 14 Pro Pineapple

iPhone 14 Plus Plain

iPhone 14 Plus Palm Tree

iPhone 14 Plus Hawaiian Isles

iPhone 14 Plus Tattoo

iPhone 14 Plus Pineapple

iPhone 14 Pro Max Plain

iPhone 14 Pro Max Palm Tree

iPhone 14 Pro Max Hawaiian Isles

iPhone 14 Pro Max Honu

iPhone 14 Pro Max Tatoo

iPhone 14 Pro Max Pineapple

iPhone 14 Tree Abalone Inlaid

iPhone 14 Hawaiian Isles Abalone Inlaid

iPhone 14 Honu Abalone Inlaid

iPhone 14 Beach Inlaid

iPhone 14 Pro Palm Tree Abalone Inlaid

iPhone 14 Pro Honu Abalone Inlaid

iPhone 14 Pro Hawaiian Isles Abalone Inlaid

iPhone 14 Plus Beach Inlaid

iPhone 14 Pro Beach Inlaid

iPhone 14 Plus Palm Tree Abalone Inlaid

iPhone 14 Plus Honu Abalone Inlaid

iPhone 14 Plus Hawaiian Isles Abalone Inlaid

iPhone 14 Pro Max Palm Tree Abalone Inlaid

iPhone 14 Pro Max Hawaiian Isles Abalone Inlaid

iPhone 14 Pro Max Honu Abalone Inlaid

iPhone 14 Pro Max Beach Inlaid

iPhone 14 Curly Koa

iPhone 14 Pro Curly Koa

iPhone 14 Plus Curly Koa

iPhone 14 Pro Max Curly Koa
Share